Junior Premiere Broadloom Combination Retro Fit Wall Unit
Description:
11-8 SKU Swing Arms and 22 Extrusions, 1-30 Product Board Pin Frame Residential Broadloom Combination Retro Fit Wall Unit
Dimension:
95″ H x 86.38″ W x 22.88″ D
Sample Size-Dimension:
88 -27" W x 18" L Samples, 29 -24" W x 36" L Product Boards,
1 -24" W x 36" L Custom Rug Program Board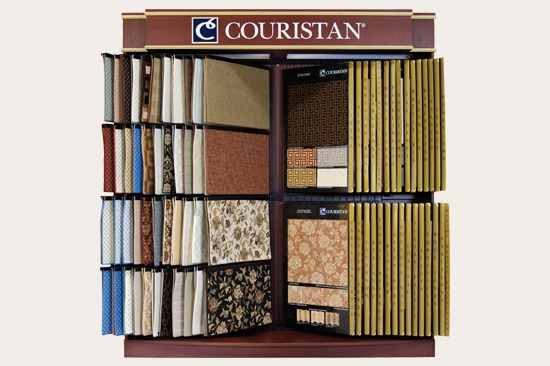 ---
General Construction:
3⁄4″ Field Cherry melamine with matching edge band.
#1 Common Poplar molding painted Rich Gold.
1″ x 2″, 1″ x 1″ and 7/8 " x 7/8 " square tube with 11 gauge sheet metal.
All steel powder coated black.
1 – Header Silkscreened 3 colors 1 side and painted 1 color 1 side.
36″ 2-Bulb Fluorescent lights.
Display is shipped knockdown, ready to assemble.
All hardware and assembly instructions included.
---
Packaging:
Packaging does not meet UPS shipping requirements.
Delivery:
Collect/FOB Dalton, Georgia
Added Benefits:
Units are fully sampled with Couristan products.
Your store will be featured on our corporate website as a Residential Broadloom Dealer and receive priority lead referral.
5% rebate on first quality sales up to cost of display unit, valid through 12 months after receipt of display. Credit will be applied to each invoice in this product category up to the amount of the cost of the display unit.
Terms four equal payments 30, 60, 90, 120 net.