Fort Lee, NJ – August 13, 2014 – Couristan, Inc., a leading manufacturer of fine, quality area rugs, residential broadloom and custom contract/hospitality carpeting, is pleased to announce that their Custom Area Rug Program is now available. Consumers are now the designers in this innovative and fully-customizable program, which makes it possible for each Couristan broadloom design to be converted into a custom area rug in any size or standard shape. Clients are able to choose any pattern from the company's three residential broadloom brands: Premiere, Creations™ and Purity®.
Designed to allow for maximum personalization, the Custom Area Rug Program allows dealers and consumers to transform each residential broadloom design to suit their decorating needs. Offering a wide selection designs, colors and rich textures, Couristan's quality residential broadloom assortment will provide end-users with the decorating flexibility needed to create a truly custom, one-of-a-kind area rug.
Larry Mahurter, vice president of marketing/advertising noted, "We are extremely excited about the unlimited potential of this program, as it allows both consumers and our dealers to bring their decorating inspirations and personalities to life. It's a great way for our dealers to fabricate a Couristan product into a custom area rug that addresses their customer's decorating needs, allowing them to showcase their design point of view in their homes. The program also serves as a way of unifying our residential broadloom brands by merchandising them together in the most modern way possible."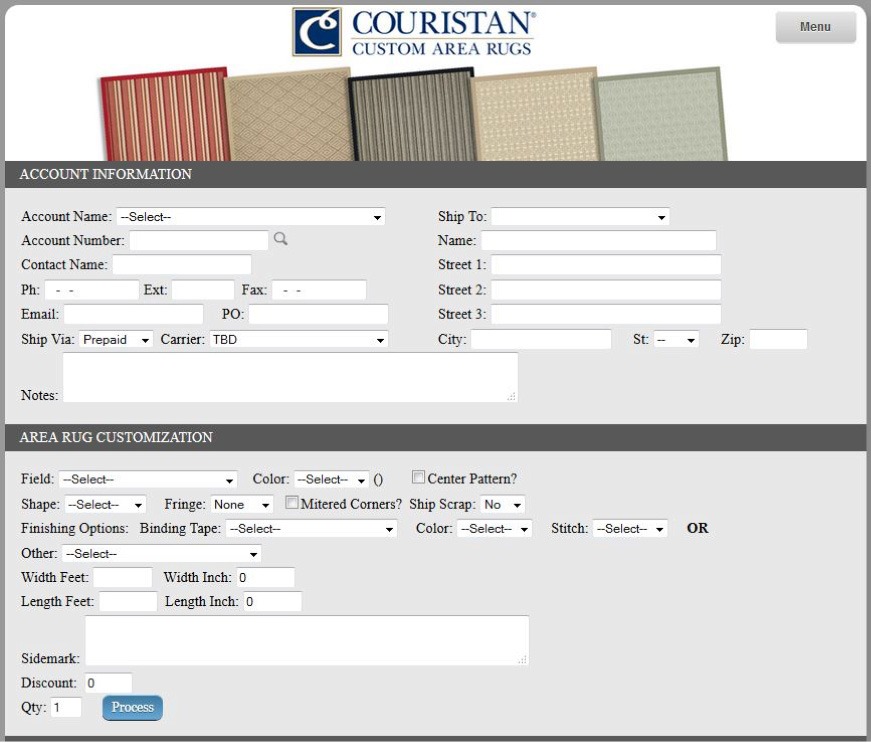 With the Custom Area Rug Program, creating a unique area rug to personalize home décor is simple:
Choose your field design
Choose your finishing
Choose your size or shape
Special finishing options include 2" length wool fringe, wool and synthetic serging, programmed borders, Courtron™ polypropylene, genuine leather, linen, cotton fabric, cotton basketweave and chenille bindings. Each fabricated custom area rug is constructed with the finest materials and finished with a felt backing to ensure quality, durability and lasting beauty.
In support of this program, the company has created a merchandising display products board, featured in 13" x 18" and 24" x 36" formats to fit each of the company's display units. Filled with lifestyle imagery, binding swatches, finishing specifications and fabricated corner feeler swatches, this board has been designed to provide consumers with a complete overview of the Custom Area Rug Program.
In addition, Couristan is also rolling out its online Custom Area Rug Calculator Program. This fully-customizable online program will allow dealers to instantly provide their customers with professional and accurate custom area rug quotes by simply knowing the field style, finishing option, shape and size of your customer's desired custom area rug.
Mahurter added, "In today's competitive marketplace, it is extremely important to provide consumers with accurate and real-time information so they can feel confident in their purchase. We feel this online tool will not only help our dealers service their customers, but will enhance the overall selling-shopping experience."
For more information on how you can create your own masterpiece with the Custom Area Rug Program, visit www.couristan.com today.
About Couristan, Inc.
Established by the Couri family in 1926, Couristan is the most trusted name in the floor covering industry, offering a vast assortment of exclusively designed power-loomed and handmade area rugs, as well as quality residential broadloom and custom contract carpeting. Couristan is also known throughout the industry as the pioneer in new construction and color techniques, which are used to create exquisitely, designed area rugs and residential broadloom products that are crafted from all over the world. Couristan products are available through department stores, home furnishings catalogs, specialty floor covering, furniture retail stores and major internet accounts. Couristan's global headquarters with full showroom is located in Fort Lee, New Jersey, at Two Executive Drive, 800.223.6186, or visit our website at www.couristan.com.