PURITY PEDESTAL DISPLAY UNIT
Description:
30 SKU Purity Pedestal Display
Dimension:
49.25" H x 73.88" W x 23.50" D
Sample Size-Dimension:
29 -13.5" x 18" Product Boards, 1 – 13.5" W x 18" L Custom Rug Program Board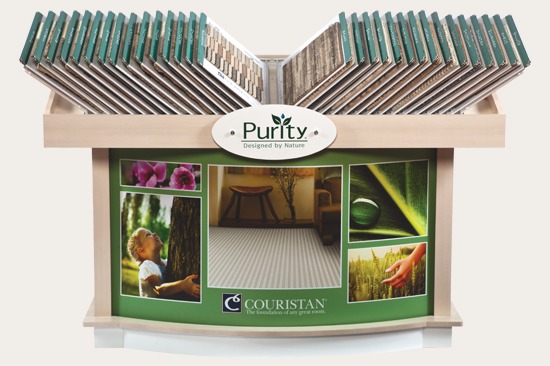 ---
GENERAL CONSTRUCTION:
3⁄4" White & W221 Leave Likatre melamine with matching edge band.
1" x 1" tube with various gauges of sheet metal and diameters of wire.
All steel powder coated white.
Features 20 degree card tilt.
.25 acrylic.
1- Header, silkscreened 4 colors 1 side, 1⁄4" frosted white plexi-glass.
2- Wing Storyboards printed 4/0 to slide into display's wings, mount to 98pt chipboard, featuring Q/R code video.
Bottom graphic printed digitally 4/0 on 30 mil styrene.
Display is shipped knockdown, ready to assemble.
All hardware and assembly instructions included.
PACKAGING:
Packaging does not meet UPS shipping requirements.
DELIVERY:
Collect/FOB Dalton, Georgia
ADDED BENEFITS:
Units are fully sampled with Couristan Purity Products.
Your store will be featured on our corporate website as a Residential Broadloom Dealer and receive priority lead referral.
Terms two equal payments 30, 60 net.