OUTDOOR LIVING MERCHANDISING DISPLAY BOX
Description:
Outdoor Living Merchandising Drop Box containing 20 vertical SKU slots
Dimension:
27.25" H x 21.62" W x 34.75" D
Sample Size-Dimension:
Maximum capacity is (20) 7'6" x 10'9" area rugs, but can accommodate 20 units of any size area rug offered in the Afuera/Monaco/Dolce/Five Seasons®/Recife/Cape/Tides/Urbane Collections.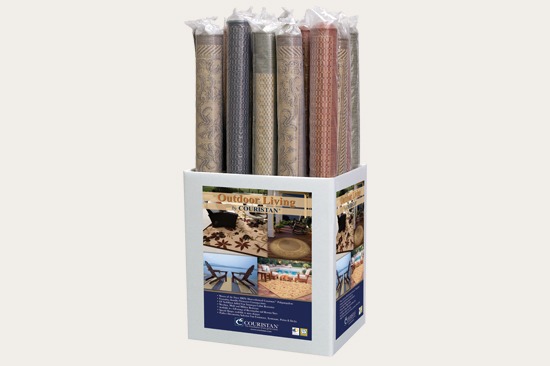 ---
GENERAL CONSTRUCTION:
Corrugated cardboard.
Mottled white on the outside, kraft on the inside.
Four-color graphics on 3 sides-each measuring 19"x 28".
Box comes pre-assembled and pre-filled with products.
DELIVERY:
Collect/FOB Dalton, Georgia
ADDED BENEFITS:
Dealers can custom select product assortment with any combination of Afuera/Cape/Charm/Dolce/Harper/Marseille/Monaco/Monte Carlo/Recife and Timber Collections.
Bundled re-fill orders in sets of 5 and 10 help reduce shipping costs for restocking merchandise.