We're getting back to the basics – starting from the ground up. More and more of us are choosing hard flooring for our homes – from slate tiles to wood finishes. The breadth of style and colors offered in our wide assortment of area rugs has been selected to complement these organic looks.
With a variety of designs and textures to choose from, here's how you can use an area rug to make a style statement in your home.
Use area rugs to lend warmth, color and vibrancy to a room.
Placed effectively, area rugs can help reduce noise levels.
On carpeting, area rugs add a dimension of luxury.
On a carpeted or hard floor surface, area rugs can be used to define a dining area or a conversation corner.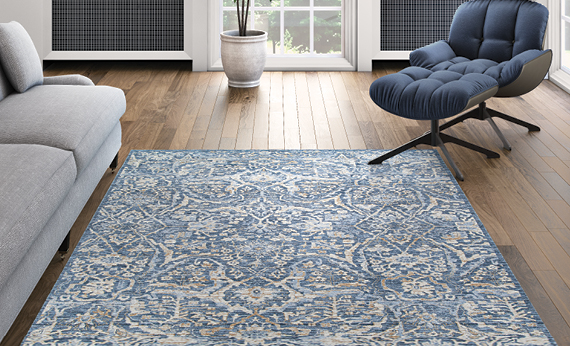 Focusing on color, texture and design trends we have simplified the selection process for you by categorizing each of our area rug collections according to five popular lifestyles; Casual Surroundings, The Good Life, Cultural Fusion, Home Retreat and Without Walls. Each lifestyle was created based on four key components that you should keep in mind when choosing the perfect area rug for your home; construction, pile fiber, design genre and suggested retail price points. The below bullets provide you with a quick overview of each lifestyle category. To view an e-catalog of each lifestyle assortment simply click on the corresponding tab.