SIGNATURE AREA RUG COLLECTIONS DISPLAY UNIT
Description:
40 SKU Signature Area Rug Collections Display Unit
Dimension:
47" W x 77" H x 27" D
Sample Size-Dimension:
40-18" W x 18" L Sample Swatches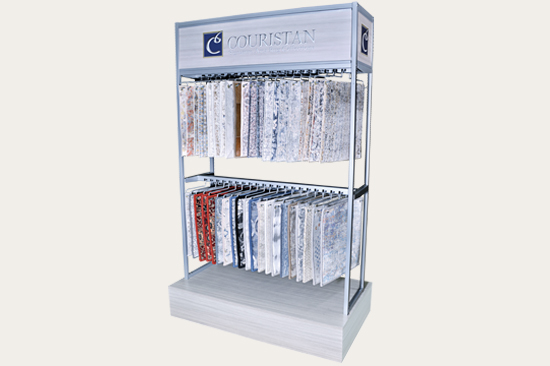 ---
GENERAL CONSTRUCTION:
3/4" Concrete Groove with matching edge band.
1' x 1" tube with various gauges of sheet metal painted Ridge Silver.
Graphics print 4/0 on .60 mil styrene. Front/Back Graphics - 44.25" x 10.875" Side Graphics - 12.875" x 10.875".
Features (40) 1/4" wire hangers painted Ridge Silver for grommeted samples.
Display is shipped knockdown, ready to assemble.
All hardware and assembly instructions included.
PACKAGING:
Packaging does not meet UPS shipping requirements.
DELIVERY:
Collect/FOB Dalton, Georgia
ADDED BENEFITS:
Each sample is identified by a product label. Label includes setting imagery, product specifications, product identifications, cleaning instructions, decorating tips, size listing and QR code link to Couristan website for entire collection viewing.
Your store will be featured on our Couristan website as a Preferred Area Rug Dealer and entitles you to all discounts offered within our yearly Promotion Schedule.
Terms three equal payments 30, 60, 90 net.