FORT LEE, NJ – January 17, 2022 – Focusing on elevating the brand on every level, Couristan has developed two new merchandising display units for the company's award-winning Outdoor/Indoor Residential Broadloom assortment and Signature Area Rug Collections category. Designed to enhance the point-of-purchase experience and creatively display the company's innovative fashions, these unique, upscale units are space-saving solutions that are both attractive and functional.
The Signature Area Rug Collections Display Unit was designed to accommodate the strategic layout and creative look of virtually any showroom. With its modern-edge appearance and unique product reveal aesthetics, the display itself is a seamless extension of the Couristan brand, emphasizing sophistication and trend-setting styling.
"Over the past few years, we have added a significant influx of trend-worthy designs and qualities to our area rug assortment within multiple product categories; especially our million points plus power-loomed category. Through our product development and investments, we have created a specific niche in the marketplace," stated Ron Couri, President and CEO of Couristan. "It was a natural progression to offer our dealers a resolute display unit designed to attract target customers and assist in generating continual sales for our area rug assortment."
Couristan is offering the Signature Area Rug Collections Display Unit with an initial programmed sample package that includes its regular best-sellers, like Sultan Treasures, Couture and Luxor, and new additions, Halli and Savoy. Each of the 40 finished samples will measure 18" x 18" and have been selected for their exclusivity for Couristan's brick and mortar partners. Each sample comes with its own individual label, providing consumers with selling features, size availability, room-setting imagery, care and maintenance instructions, decorating tips and a QR code which takes them to the company's website to view the complete collection of the sample they are viewing. This compressed unit, virtually becomes a silent salesperson for storefronts. The display measures 77" H x 47" W x 27" D and can serve as the perfect end-aisle fixture that works well with various showroom setups and compliments in-store vignettes.The company is also launching a new merchandising unit for its award-winning Outdoor/Indoor Residential Broadloom assortment. The Outdoor/Indoor Two-Tier Display Unit houses 48, 13.5" x 18" product boards which   highlight some of the most exquisite, all performance broadloom products available in today's market. The addition of 2, 13.5" x 18" wing boards illustrate the company's custom rug capabilities within the outdoor category. Coordinating with both the Signature Area Rug Collections Display Unit as well as the company's existing Residential Broadloom Display Units, the Two-Tier Unit measures 66.5" H x 52.5" W x 21" D and is intended to function as a silent salesperson, instantly communicating the superior standards that have been synonymous with Couristan for over 95 years.
"The Outdoor/Indoor Residential Broadloom category has become such a vital part of our business as more and more households are entertaining outdoors," commented George Couri, Chairman of Couristan. "The designs, colors and versatility offered in our outdoor/indoor assortment lend themselves to traditional, casual and modern décor, and the ability to create custom rugs from our entire offering, allows our customers to create a living space that truly suites their needs. The two-tier display brings all of our top-sellers in our outdoor/indoor category to one central location, illustrating the range of options we offer and providing customers with endless ideas on how to customize a look that is all their own."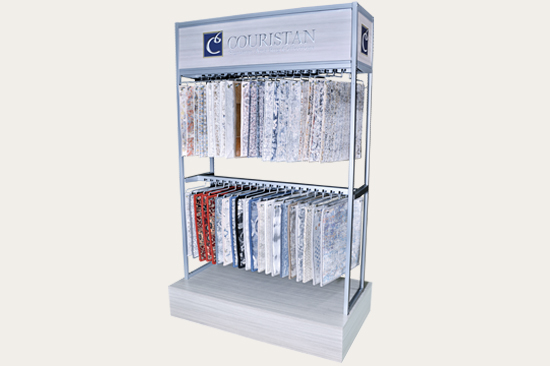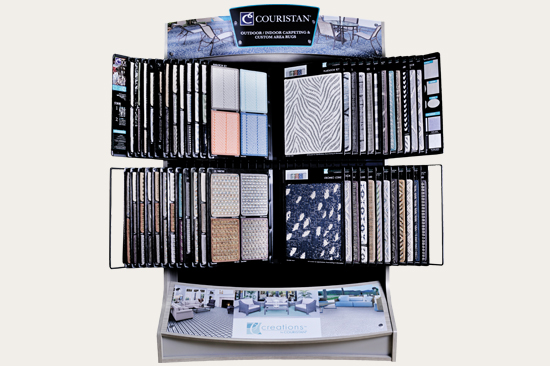 About Couristan, Inc.
Established by the Couri family in 1926, Couristan is the most trusted name in the floor covering industry, offering a vast assortment of exclusively designed power-loomed and handmade area rugs, as well as quality residential broadloom and custom contract carpeting. Couristan is also known throughout the industry as the pioneer in new construction and color techniques, which are used to create exquisitely, designed area rugs and residential broadloom products that are crafted from all over the world. Couristan products are available through department stores, home furnishings catalogs, specialty floor covering and furniture retail stores. Couristan's global headquarters with full showroom is located in Fort Lee, New Jersey, at Two Executive Drive, 800.223.6186, or visit our website at www.couristan.com.