Floral area rugs might be one of the most straightforward styles to describe. If you guessed that floral rugs use some types of flowers in their design, you guessed correctly. You might just imagine a rug with many bright sunflowers and roses thrown together, but floral rugs are much more than that.
In our opinion, they are one of the perfect styles of rugs to use in your outdoor/indoor space because they tie together the beauty of the outdoors with the comfort of being in your own backyard. They're one of the most varied types of rugs out there, and we can't wait to show you some of our favorites.
Our Favorite Floral Area Rugs for Outdoor/Indoor Use
Floral rugs are an extremely varied pattern, meaning there are countless options to pick for your home. It's up to you to narrow down which rug would be best for your patio or your screened-in porch. To help make the search a little less overwhelming, we've pulled together our top ten list of incredible floral area rugs. We're confident that these options would look absolutely fantastic in your space. Even better, all the rugs below are UV stabilized and are mold/mildew/water-resistant, meaning they won't fade or deteriorate while used outside.
Traditional Florals That Will Fit Perfectly Outside
Recife Antique Medallion in Sage Leaf-Ivory offers a sophisticated twist on a traditional floral pattern. This rug is traditional and timeless, and the contrasting sage leaf and ivory notes within will tie perfectly wherever you place it outside. A backyard patio is our favorite place to style this, with some comfortable outdoor furniture to lounge on. If your design tastes align with traditional and classic, we think this rug with its Antique Medallion floral pattern will be perfect for you.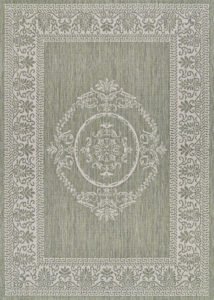 A Modern Twist on a Floral Rug
Do you love florals but would like something a little less colorful? The Charm Botanical in Sand-Twig gives a modern twist on floral patterns by creating a line drawing design that looks like flowers, almost like an abstract art piece. It would look wonderful within a garden patio or, if you have a screened-in porch with darker furniture, this will tie it all together.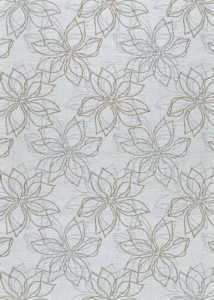 Fun, Funky, and Floral
We fell head over heels in love with this adorable and colorful area rug. The various, scaled retro flowers add a unique touch to this floral pattern. The Covington Geranum in Navy-Multi carpet is a conversation starter that will work perfectly in a colorful outdoor space where you often host or have outdoor adventures. Especially if you've decorated an indoor porch with multi-colored pillows or furniture, this rug will fit perfectly.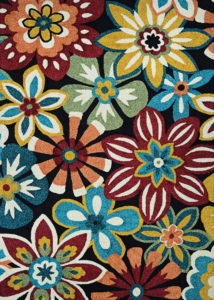 Bring a Masterpiece into Your Home
We love how this floral area rug looks like a piece of art. Its bold and funky pattern will look stunning outside on your porch or outside your front door to welcome any guests into your home. Since the Covington Areca Palms/Brown-Forest-Green is a darker rug, we recommend placing it somewhere that is already bright and with a lot of space. That way, the rug won't darken the area too much.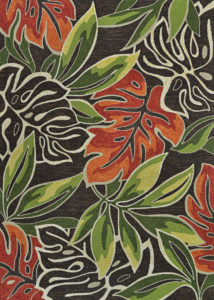 Focused on Neutrals? Look No Further
Suppose you decorated your patio with more neutral colors and design elements. In that case, this unique floral area rug will look perfect as the centerpiece to bring it all together. We love the calm and muted colors of the flowering ferns and the tie of soft ivory from the rug's base color. This Dolce Aralia rug in Naturals-Cool Onyx would look great in a sunroom that is already naturally bright.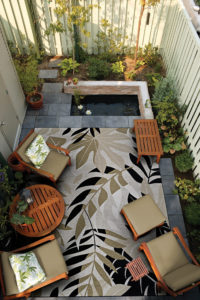 Bring Nature to Your Patio
Love being one with nature? This floral area rug is like bringing a piece of the outdoors into your living space. The Dolce Flowering carpet in Ivory and Hunter Green would be stunning on a concrete patio. Especially if you decorate with green pillows and don't have a lot of natural greenery around you, consider purchasing this rug. It'll also be lovely in a sunroom or outside your front door to greet guests. The leaves are super realistic; we can't help but keep staring at them.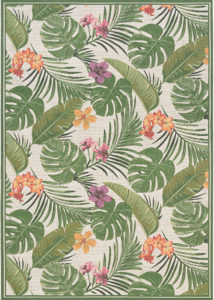 Bring in the Florals but Make it Blue
If the color blue is one of your favorites or if you've already decorated with a lot of blue, the Covington Palm Leaves in Blue will be the perfect floral area rug for your home. Especially if you live near a beach or outside a body of water, this rug will complement your location even more. It would especially look gorgeous underneath a cabana. This rug is the best of both worlds. It offers a floral design without all the bright or natural colors.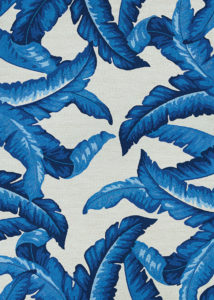 Be as Colorful as Possible
Want to go as bold and colorful as possible? We support that and think the Covington Painted Fern in Fern-Red is the perfect floral area rug to be as bright and loud as you can be. Though you might have a more challenging time adding this rug to a place with lots of colorful decorations, more neutral furniture would go great with it. We also think this would fit best in an open, outdoor area like your back porch. Overall, if you want your outdoor space to be as fun as possible, you can't go wrong with this rug.
Got Your Eye on a Floral Area Rug? Start Decorating Today!
With our large variety of floral area rug selections, we hope that you'll find the perfect fit for your outdoor space. Whether you want to decorate totally with blue or are hoping for something a little more traditional, we've got all of your decoration inspirations covered. Ready to browse through our entire collection of outdoor/indoor floral decorative rugs? Head over to our award-winning outdoor/indoor rug search and find the best rug to fit your space.
Top Quality Rugs for Your Home
Our outdoor/indoor rugs are created with high-quality Courtron™ polypropylene and are built to last outside without sacrificing quality. Our high-quality designs allow you to keep your rug for as long as you'd like, but when you're ready to switch things up, choose from our hundreds of designs to top of your indoor or outdoor space.